[ Chinese wardrobe network ] Jane-European style furniture is increasingly sought after by the public, because it is always based on people's needs, to cater to the changing fashion concept of the public, to simplify life in the end, to exquisite and delicate. In such a fast-paced day, people are eager to get a simple release. Of course, Jane-European style furniture is also a long-awaited piece of art. What kind of charm does it have in the end? The specific analysis allows Xiaobian to read the picture and learn together with you!

Just Xiaobian said that Jane-European style furniture is mostly light-colored, and light-toned furniture not only gives people an elegant feeling, but the most important thing is that it can make people feel relaxed and stress-free. Can create a warm and comfortable home life for you. Look at this light-colored nightstand, quietly placed on the bed, its introverted temperament does not affect its expression of the maverick pursued by modern people. The four cute cabinet feet make this Jane-European style furniture elegant and elegant.

This is a chaise longue in a simple European style furniture. When it comes to the chaise longue, people can't help but think of the Liugong powder. The chaise longue gives people a sense of grace and luxury, so many people do not want to be the above-mentioned mediocre powder. But when you see the chaise longue in this simple European style furniture, does it have a different understanding of it? Its smooth and bright color is attached to the full and comfortable leather art, which not only makes people feel the manner, but also the heart. It is elegant and people can see its deep inner culture. The exquisite carving on the armrests and the legs of the chair highlights its esoteric cleanliness! It is a simple European style furniture that does not touch any powder.

The engraved gold is a characteristic that has been handed down from the European classical style, and has been reasonably passed down in Jane-European style furniture. This Jane-European style furniture has a gold pattern on its four feet, but it doesn't feel like an over-stacking. This shows that in the simple European style furniture, it pays attention to the harmony of nature. The pure white ivory color has designed a realistic and fashionable texture, and the full and thick leather art slightly raised, combined with its beautiful lines, let the whole chair exude a strong aristocratic atmosphere.

Kitchen Utensils made of stainless steel,nylon,PP,wooden,silicone or rubber.It is included strainer,ginger grater,Garlic Press,spatula,skimmer,pasta server,ladle,slotted turner,solid turner,fish turner,potato press,solid spoon,slotted spoon,whisk,knife,Can Opener,3 in 1 peeler,ice cream scoop,measuring spoon set,measuring cup set,Food Tongs.





It keeps you ready to prepare countless things in the kitchen.

Set will provide the perfect incentive to begin preparing meals at home and develop your cooking skills along the way.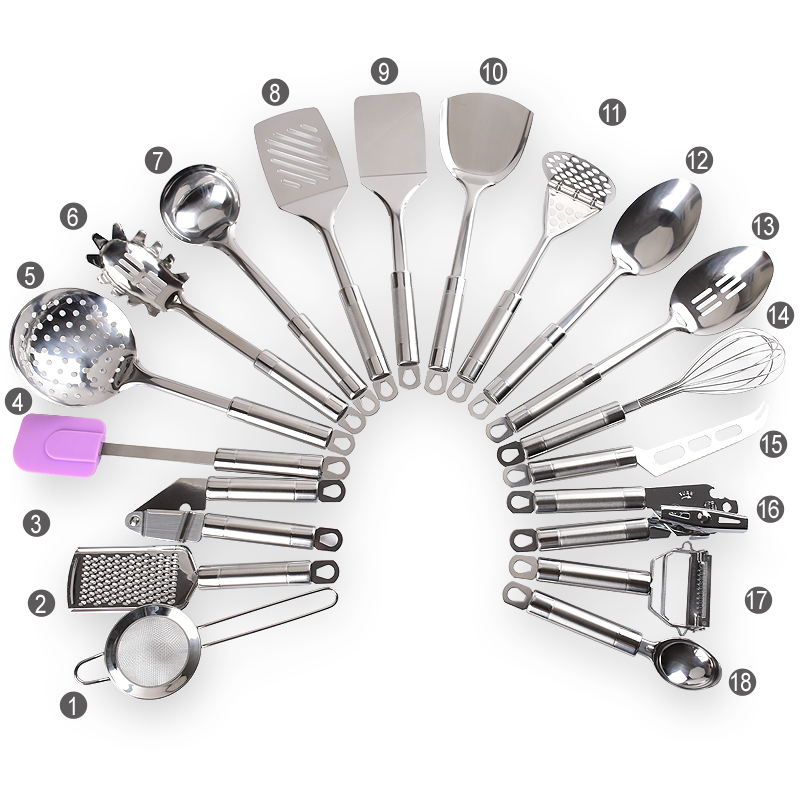 Kitchen Utensils

Kitchen Utensils,Kitchen Utensils Set,Cooking Utensils Set,Cooking Set

Fortary Industry&Trading Co., Ltd. , https://www.kitchenset.de