----NORLANDLAND and LOWA brand winter outdoor experience

08 The Beijing Olympics has only just ended. The passion in people's hearts has not faded yet, and winter can't wait to come. But in the winter of 08, the cold weather will no longer be an obstacle to outdoor sports. The professional outdoor sports brand Nordland from Austria and the top outdoor shoe brand LOWA from Germany will provide the most comprehensive help for your winter sports!

Ice, snow, outdoor, fashion, sports, this is bound to be the theme of SOGO Zhuangsheng SOGO in Beijing on November 15th, 2008, snow white will become the only color of the day, by the professional outdoor sports brand from Austria, NORTHLAND and top outdoor shoe brands from Germany The LOWA-sponsored "Wearing the First Snow in Beijing 08 Winter" event will bring you into a professional outdoor sports world!

The NORTHLAND brand was born in Steier in Austria in 1973. Its brand founder Mr. Gerwalt will provide outdoor enthusiasts with more comfortable products as the company's goal. In more than 30 years of development, NORTHLAND has provided outdoor enthusiasts with safe and comfortable professional outdoor products for more than 30 years of development. It has continuously learned various suggestions and adhered to scientific and technological innovation. Now it has developed into an international outdoor country covering all major countries in the world. Brand.

Today, Nordland has an excellent corporate operations team. They are champions from a variety of outdoor areas. With a professional spirit, they carefully select and test each piece of functional fabric, integrate intimate design and stylish colors, and put them under extreme conditions. As a product quality standard, testing continuously practices the perfect combination of performance, comfort and fashion.

The LOWA brand, which specializes in manufacturing all-outdoor shoes including extreme mountaineering, hiking, outings, and urban tourism, was founded in 1923 in Bavaria, southern Germany, and created by Jetzendorf. Relying on more than 80 years of professional shoemaking experience, LOWA is providing the world with genuine high-quality outdoor sports shoes as the German national standard. The demand for every detail guarantees the excellent quality of every pair of LOWA shoes. LOWA selects the world's high-quality materials; with world-class professional soles; supplemented with more than ten patented technologies and global leading foot comfort systems, it truly guarantees that each pair of outdoor shoes will be handmade in Europe.

At the event site, it will simulate the terrain and climate of the Alps, and create an outdoor natural snow and ice world, so that guests present at the scene can fully feel the excellent windproof waterproof capacity brought by NORTHLAND and LOWA under the harsh natural conditions. Comprehensive and thoughtful protection.

With the winter of NORTHLAND and LOWA, the outdoors has become our paradise. Let us embrace nature together and welcome the first snow of Beijing 2008.
HIGH QUALITY STAINLESS STEEL Manicure Set: All tools are made of premium stainless steel, great hardness and durable edge of each has been polished repeatedly to have a comfort grip,the blade can keep sharp for 10 years after a repetitive polishing and hardening process, give you a smooth and cleaning cutting.
MULTIPLE FUNCTION 7 IN 1 GROOMING KIT: The function of most manicure set is centered on trimming nails, and our set has a variety of functions including hand care and foot care,each tool is elaborately made and can meet your all kinds of care needs in daily life, one set in the hand,living at ease.

High quality, lightweight, folding storage case easy to carry
Available in various colors and patterns for the economic manicure or Pedicure Set
Perfect for promotional gifts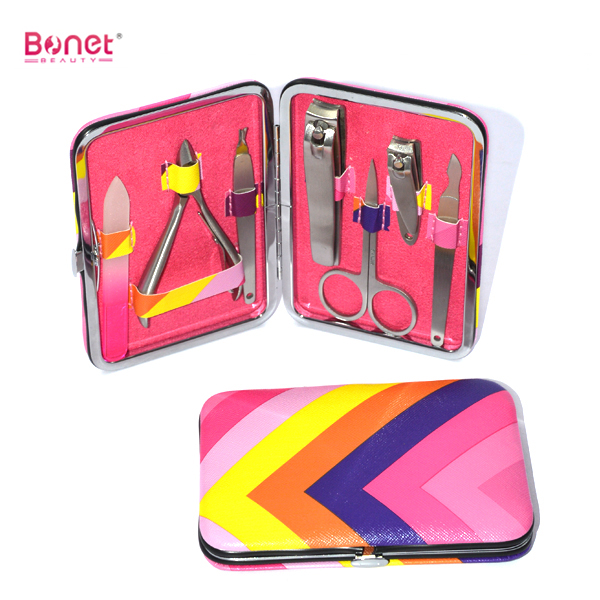 Promotional Manicure Set,Nail Manicure Set,Small Manicure Set,Electric Manicure Set

Bonet Houseware Co., Ltd. , https://www.manicureset.de