Will not emit toxic substances ---

With the idea that water-based paints are more environmentally friendly, consumers already know that they are "water-based" when buying wall paint. However, many consumers neglect the wood lacquer on the surface of furniture. Some people say that wood lacquer is also more water-based. Others say that good oil paint is more suitable for the surface texture of some solid wood furniture. So, is the paint on the surface of the furniture good in water or oil? Experts affirmed that the quality index of furniture will be greatly improved with high-quality water-based wood lacquer.

Waterborne paints are paints that use water as a diluent. At present, the interior and exterior wall coatings and metal lacquers we use have corresponding water-based lacquer products. Especially in the interior wall coatings of buildings, water-based lacquers have occupied the main market. For ordinary consumers, water-based wood lacquer is a bit strange, and experts say that water-based paint will become the undisputed mainstream, whether it is wall or wood surface.

Water-based paint VS oil paint: a volatile water, a discharge of poison

For the "water-based paint" that people don't understand, the reporter interviewed Zhang Wei, general manager of the paint and coatings business of Greater China, Rohm and Haas Company, which is dedicated to the development and research of special materials around the world. Zhang Wei introduced that waterborne coating technology is a more environmentally friendly technology and is widely used in various market segments of industrial coatings, architectural coatings and building materials. The most essential difference between water-based paint and oil-based paint is the choice of solvent. Water-based paint is water-based paint, while oil-based paint is organic solvent. These organic solvents are generally harmful to the human body, polluted by the atmosphere and easily burned. Solvents, therefore, the most essential difference between water-based paints and oil-based paints is environmental protection and the impact on human health.

If you want to analyze the difference between the two, you should start with the composition of oily wood lacquer and waterborne wood lacquer. According to Zhang Wei, the main components of general wood varnish are resin, auxiliaries and solvents. The reporter also learned that the organic solvent in the oily wood lacquer is far higher than the waterborne wood lacquer, and the benzene, toluene and the like contained in the organic solvent are harmful substances.

Zhang Wei explained that organic solvents will volatilize into the air when the paint is formed into a film, and the so-called health threats arise. Moreover, these harmful substances will not be completely evaporated in a short period of time, such as formaldehyde, and it may take 5 to 10 years to completely evaporate. Therefore, the damage of these organic solvents to the human body becomes a long-term behavior. In contrast, water-based wood lacquers use water instead of organic solvents, so when the film is formed, water is evaporated, so it will not cause any harm to the human body.

Waterborne wood lacquer improves the environmental friendliness of furniture

According to the reporter's understanding, the attitude of the market for water-based wood lacquer is divided into two types, one is to determine the environmental performance of water-based wood lacquer, so it is widely used in furniture surfaces, such as Meikemeijia. They believe that the water-based paint has a high environmental protection index and meets market access standards. At the same time, the use of water-based wood lacquer can also improve the quality of the product. Another attitude is that although water-based paints are widely used in interior and exterior wall coatings, the technology of water-based wood lacquers is still immature. Many paints have not yet achieved water-based wood lacquers. At the same time, water-based paints on the market. The quality of wood lacquer is uneven. It is better to use oily lacquers of superior quality. The Peugeot furniture that the reporter knows is one of the representatives.

Faced with these two different views, Zhang Wei said that in the past few years, water-based technology has developed rapidly in the field of wood lacquer and building materials, but the comprehensive promotion of water-based lacquer still takes time and requires government support and Consumer identity in the concept. Although the direction is unquestionable, it requires the efforts of the entire industry. The global promotion of water-based paints used in interior walls of buildings has been achieved for nearly 50 years. In addition, waterborne wood lacquer is in its infancy, and its technical performance is still in the development stage. From the current point of view, waterborne wood lacquer is not as mature as oil lacquer at the level of paint film thickness and gloss, but this Does not prevent waterborne wood lacquer from playing its most basic and important furniture protection function. It is not a wise requirement to emphasize both environmental performance and physical properties for coating products. The performance of coatings depends mainly on the application field.

It is also important to note that water-based wood lacquers, as new organisms, have the phenomenon of mud and sand on the market. Some merchants have taken a fancy to the market space of water-based paints, but they have not invested in technology research and development. They have adopted low-cost water-based paint products to impact the low-end market and obtain short-term benefits. The result is quality problems that have a lot of negative effects on the "newborn" of water-based paints. Therefore, the development of water-based paints requires correct market regulation and guidance.
Water-based paint environmental protection level will also be upgraded

Zhang Wei said that the "environmental protection level" of water-based paints is in the process of continuous development and upgrading. The first step is formaldehyde free. In addition, water-based paints are still oriented towards low VOC (volatile organic compounds), low or no APEO (alkylphenol ethoxylates, used in auxiliaries, its toxicity, biodegradability, environmental hormones, APEO The production of harmful by-products in the production process will have an impact on the ecology and the human body.) The direction is constantly developing, and the concept of health and environmental protection is constantly upgraded.

Premium Kitchen Knife: 5 Professional Knives set with case includes 8"Chef Knife, 8"Slicing Knife, 8"Bread Knife serrated , 5"Utility Knife, 3.5"Paring Knife. A specialized set of kitchen knives for all your chopping needs. A true cutlery organizer!

PROFESSIONAL QUALITY AT ITS BEST-Made from Superior high-Carbon stainless steel blades for precision and accuracy. Strong, durable bolster for perfect stability and control. Sharp, sturdy & practical. No rust, stains or pitting here!




A MULTI-PURPOSE KITCHEN MUST-Craft Knife Set Beautiful S/S&wooden& handles design to maximize durability and stress tolerance. Traditional Polymer handles are industrial strength. A perfect mix of design & practicality,not only under cabinet!




EASY CARE-All knives store safely in the Pakkawood Knife Block wood carving. (Please hand clean and don't use dish washer) This Knife Set with block is an essential for both professional and amateur cooks.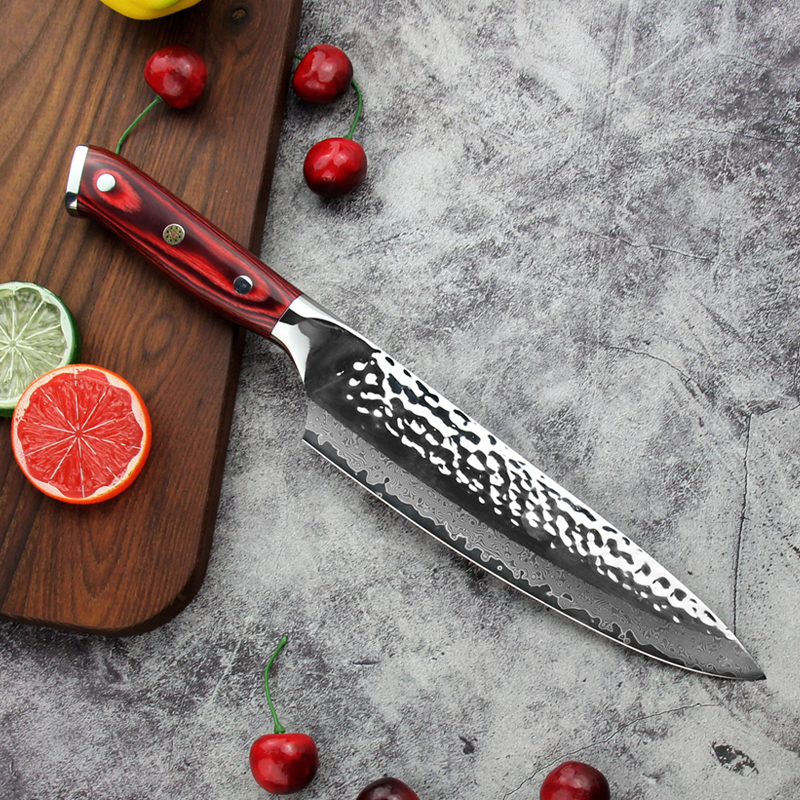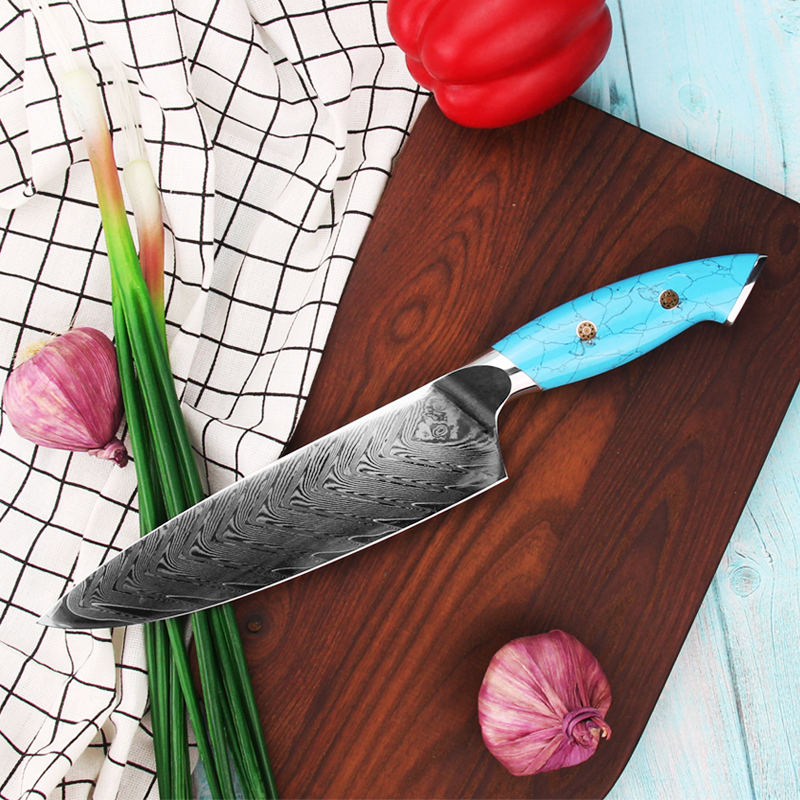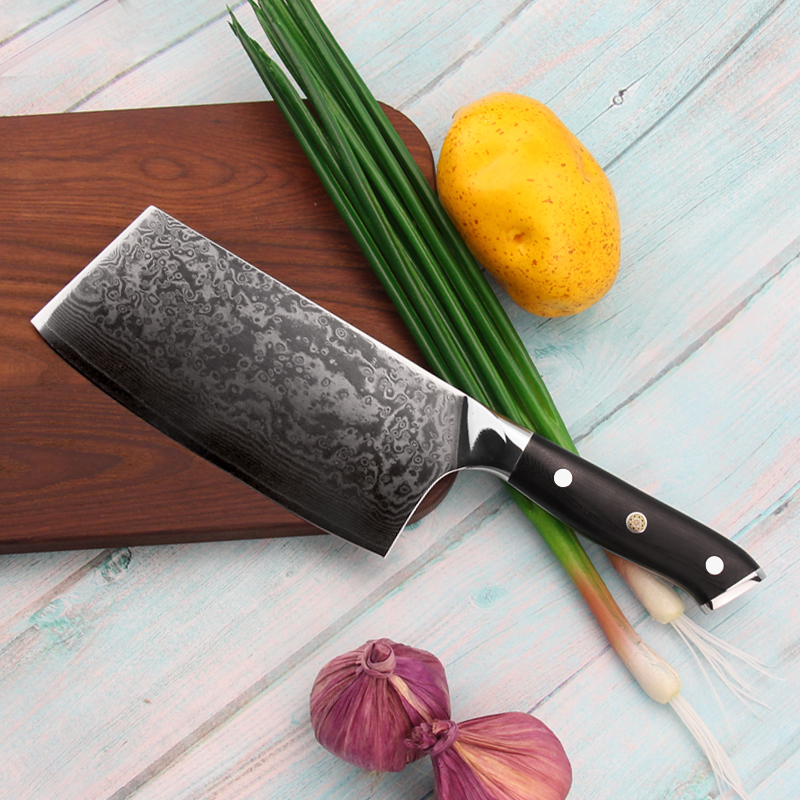 Kitchen Knife

Kitchen Knife,Ceramic Kitchen Knife,Non Stick Chef Knife,Stainless Steel Kitchen Knife

YANGJIANG TOALLWIN TRADING CO., LTD , https://www.kitchenknife.de